How Our Fireplaces Work
Indoor Fireplaces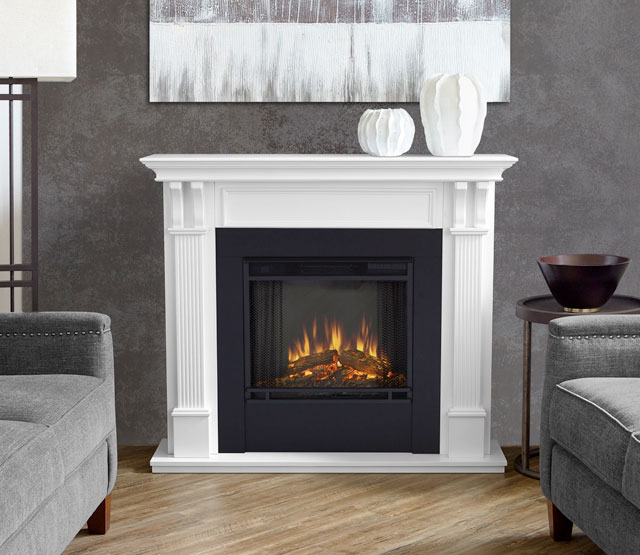 Real Flame® electric fireplaces mimic the look of a real fire but do not require a chimney or vents and plug into a standard three-prong outlet. After assembly, place your fireplace in the desired location, install the anti-topple device if required, plug into an outlet, and turn on the firebox by using the touch controls or remote control. The LED flames flicker realistically and the incorporated heater warms your room. The thermostat is adjustable so the heater can be turned off and you can enjoy the charm of a fire year-round. Customize your fireplace using the brightness settings, timer function and, in some models, flame color. Styles include traditional mantels, media cabinets and wall-mounted fireplaces.
Outdoor Gas Fireplaces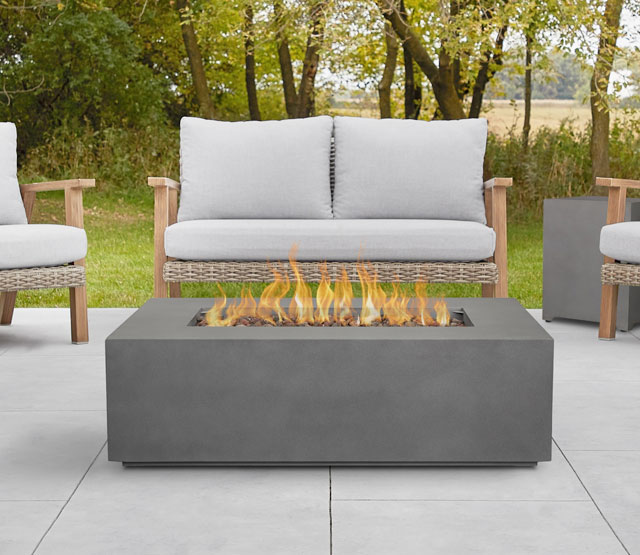 Real Flame outdoor fire tables and bowls come with everything needed for standard installation and many of our units include a natural gas conversion kit so you can decide what type of fuel is right for you. If opting for propane: Hook up the hose to the propane tank, turn on the propane tank at its source, and ignite the fire using the ignition button and dial. Most of our fireplaces require a 20 lb liquid propane tank that sits outside the fire table; for those, take a look at our matching propane tank covers. Some of our chat-height and casual-height tables have the convenience of housing the required 11 lb or 20 lb liquid propane tank within the base of the fire table. If opting for natural gas: Once installed by a certified gas technician, turn on the natural gas at its source and ignite the fire using the ignition button and dial. For both propane and gas: If the fireplace is described as "push button ignition" then no external lighter is needed. If the fireplace is described as "match ignition" then you will need to use an external lighter to ignite. We offer many different outdoor gas fireplace styles constructed in a range of materials.
Wood Burning Fire Pits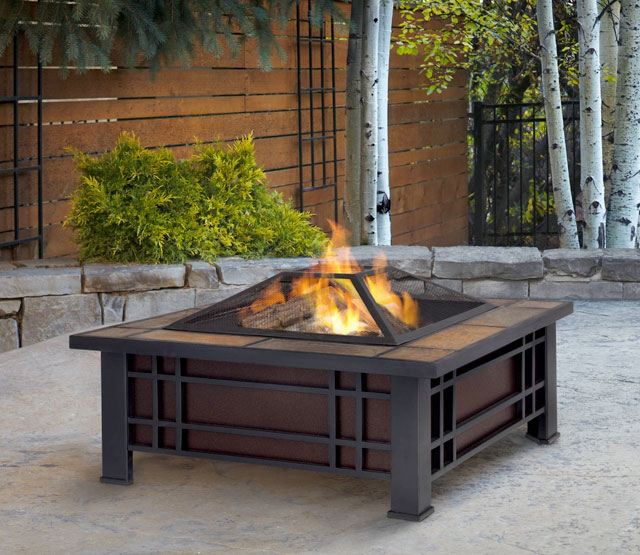 Real Flame wood burning fire pits provide a welcoming ambiance without the maintenance, high cost or permanence associated with built-in fire pits. Our fire pits are freestanding and can be moved to suit the changes in your outdoor space. Constructed of durable powder-coated steel, these fire features come in many different styles. From the minimal design of the Anson to the Prairie style of the Morrison we have a fire pit that's right for you. A log grate, poker and a spark screen are included.
Gel Fuel Fireplaces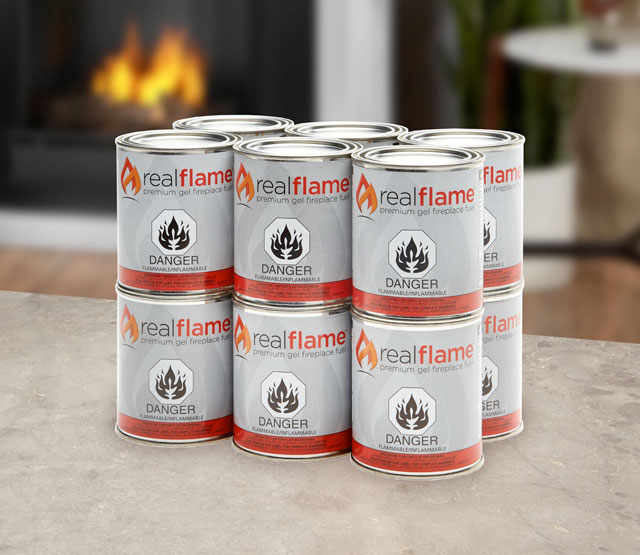 We no longer make or sell our gel fuel fireplaces, but due to high demand from existing customers we are selling the Real Flame gel fuel cans on this website. Real Flame gel fuel is an isopropyl based fuel that is engineered and designed exclusively for use in Real Flame fireplaces. The fuel burns for approximately 2.5 to 3 hours without ash or smoke. While odorless for most of the burn, just like wood or manufactured log fires, there will be a slight odor at the end due to the composition of the fuel. You may burn one to three cans in your indoor fireplace at a time. While our fireplaces are not designed as a heating source, the heat produced when burning three cans can raise the temperature in a small room by 10°F.
Hardware and manuals required for assembly are included with all of our products.